Agnese Zalcmane (35).
Agnese is one of the most intense people I have met in the best sense of that word. Her guidance helps me at work in significant ways, as she is wonderful at explaining things with patience and examples. The amount of her interests/hobbies never seizes to amaze me, especially how she manages them time-wise. And due to how passionate she is about her hobbies, it picks up other people's curiosity about them, thus broadening their horizons; for example I am now more interested in Astronomy than I was before meeting Agnese. I also like how she stands by her ideas and commits to what she is doing, which makes her a stimulating person to be around.
Anders Sköld (42).
Anders the Swedish conquistador is back on the mythical continent of the condors. The legend says he was here in a distant past, with the purpose to find Eldorado. In the chase for Eldorado he and his compadres had to endure unspeakable suffering and sacrifices, like wrestling anacondas and visit internet cafes with painfully slow internet access. Severely traumatized from all suffering and the failure of not finding Eldorado, he finally withdrew to a shady cafe in Lima, consumed a huge amount of pollo dorado con papas fritas and beer while watching copa libertadores on TV. Decades later, marked by posttraumatic stress disorder, he is now back on the ground of the new world. This time not to find gold, but to make up with the demons from the past and chasing shadows in the darkness.
Andra Reinholde (60).
Andra does everything quickly – thinks quickly, walks quickly and does quickly. And that is why it seems she manages sometimes to do more than others. In her everyday life she teaches chemistry to highschool pupils, spends her free time with four wonderful grandchildren and in addition to that manages to find time to be in her forest countryside house and carry out her hobby – traveling.
Andra feels good in all kinds of environments and situations – one day she can put on a beautiful dress and go to the premiere of an opera, on another day organise plowing of her potato field or virtuously drive the car along impassable roads.
Andra is a great travelling mate whom the wellbeing of herself and her groupmates is equally important. She will not get confused in the most complicated situations, in the worst moment suddenly will produce Latvian "gotiņas" sweets from within her beg and the hardships will not stop her.
Dace Zvirgzdiņa (63).
For Dacei travelling wondering and movement is important. It is significant to be at the sea and in the nature. Long walks along the seaside delight her. Dace doesn't hesitate to help others. Her most characteristic features – generous, social, sensitive, enduring, calm, self-sufficient. She likes boating, hiking on mountain and hill ridges. She is enthusiastic about interior design.
Dora Livkiša (31).
Dora is probably one of the most science-minded persons you could ever meet. Characteristics of her personality are a curiosity and passion for certain topics and subjects that have caught her attention (of course, there are other areas to what she is completely indifferent). Dora's professional life is related to biology. Gazing at the stars is a relatively new hobby for her; Nevertheless, it will definitely keep her attention for a while. She tries to explore her interests from all the angles. This curiosity will also help during the trip – it will encourage and inspire to make new discoveries.
Being science-minded nevertheless does not mean being calculating in relationships with others. Dora provides her support and advice to the people around her whenever necessary. Dora is not only reading scientific literature, but also some weird Asian comics. She enjoys making handicrafts and baking cakes and she is keen on participating in treasure-hunt games and quizzes.
Ilgonis Vilks (58).
Astronomer Ilgonis Vilks
Will bring you to the stars.
On the way, will tell you a story,
About the real rocketman deeds.
A meteorite stands on his desk,
And an owl – a symbol of wisdom.
Do you need something more?
Just come and ask him yourself.
Imants Zaķis (50).
Imants doesn't speak much, but does what he needs to do. Patient and mostly calm like a river. Not very well remember the names of people, but visually memorize them well. Amazingly durable, he broke his toe in one of his previous trips, but continued along the whole group and went to the doctor three weeks later. If you need a long-time driver, this is Imants. If you need someone to go hiking, that is also Imants. Imants is not afraid and always ready to taste some new exotic food. He will also not get lost in an unfamiliar forest or in the city because he can navigate well. Being on a journey, Imants will always carry a variety of gadgets, wires and tools. Travel is carefully recorded in a special notebook, but he does not publish his notes. Probably being shy. Working in a government job and after a week at the office is glad to have the opportunity to spend time outdoors.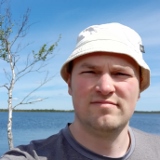 Juris Jerums (40).
MADMAN. Has sense of scent, grip and significant amount of insight. JJ knows when to show up. And he also knows when to disappear.
Juris is a socially active person, responsible to society and also to the environment. Humorous, sincere.